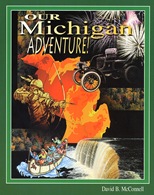 In Our Michigan Adventure, core democratic values are easily introduced to students using the framework of Michigan history. The study of these values goes hand in hand with the study of Michigan and its development.

To help your students recognize core democratic values when they are presented, a special icon appears in the margin. This icon looks like a small capitol building.
Students can understand the loss of core democratic values by Michigan's Native Americans as their land was usurped by ever growing numbers of settlers.
Students will learn how freedom of religion was important to the Dutch and other immigrant groups who moved to our state.
Later, they can see how some Michiganians worked to help escaped slaves gain core democratic values through the Underground Railroad. They will be introduced to those who joined the corps of Civil War soldiers fighting to extend core democratic values to all Americans.
Students will come to realize that until 1920, women were denied popular sovereignty because they could not vote. They will learn about the Michiganians who led the march to gain voting rights for women.
Students will discover how Michigan's workers and soldiers showed their patriotism to protect their country during World War One and Two.
They will explore how the diversity of our people helps make Michigan a better and more interesting place to live.
In the book's chapter on government students will wee how the framework of constitutional principles makes democracy possible.
Our Michigan Adventure incorporates all of the core Democratic Values. from the Michigan Department of Education.