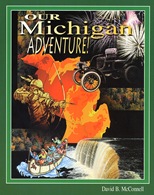 Our Michigan Adventure uses the framework of Michigan's history to incorporate geography, civics, economics and core democratic values in an interesting and understandable way.
By using Our Michigan Adventure, students will meet the Native American tribes - the Ojibwa, Ottawa, the Potawatomi and others. They will be introduced to Pontiac, Tecumseh and other leaders.
They will go back in time and learn about the French who ruled the land for over one hundred years. It was the French who started Michigan's first large industry, fur trading, and our first cities like Sault Ste. Marie and Detroit.
They will discover the clash of cultures between the Native People and the Europeans and between the Europeans themselves. This clash finally left our land under British control.
They will learn about the struggle between the early U.S. government and the British to actually make Michigan a part of the United States.
Your students will join the settlers as they moved west to start farms and more cities in this wilderness land. They will see the Native Americans pushed from their homes to make room for a completely different way of life.
They will witness the imperfections of a new country which still allowed slavery and see how Michigan became a leader assisting escaped slaves gain core democratic values and their freedom via the Underground Railroad. They can read how the slavery issue divided communities. They will find out how Michigan men, and some women, rallied to President Lincoln's request for soldiers to fight in the Civil War.
Your students will be there when giant trees go smashing down under the axes and saws of lumberjacks. They will hear the clanging pick axes and hammers of the early miners who brought up copper and iron and industrial development of the Upper Peninsula.
They will have a front row seat when a new means of transportation burst upon the scene-the car! Through the growth of the auto industry they can understand the relationship between consumer, producer, natural resources, human resources, and capital resources.
Today, as well as yesterday, events from far away can affect Michigan. This was certainly true as its people faced the two world wars and the Great Depression in between the wars.
As we move into the 20th and 21st centuries, students can see how our peninsulas were united by a mighty bridge and how Michiganians became the ultimate explorers joining the ranks of America's astronauts.
Our Michigan Adventure incorporates all 12 upper elementary social studies benchmarks for the Historic Perspective.